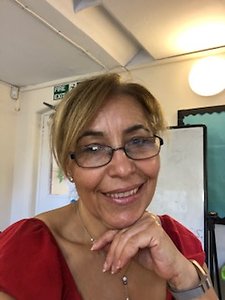 Maria Fernanda Oliveira .Counsellor and Life Coach.Member of the British Association for Counselling and Psychotherapy (BACP). Central and South London.
If things are getting on top of you, take some time out with someone who really listens- and who is qualified to help you explore your thoughts and feelings and get you back on your feet.


Hi am Maria, -an experienced counsellor and life coach who has been creating safe,confidential, non judgemental spaces for adults and children for years.

A bilingual therapist fluent in English and Portuguese, I work with individuals, couples, school children and groups face-to-face, by telephone or via Skype-whatever works best for my client or clients.

And whether our relationship is short term or open ended, my aim is always to help people enhance their lives and live them more fully.

Over the years I have worked closely with all sorts of people with all kinds of issues.
- Stress
- Relationship tensions
- Panic Attacks
- Anxiety
- Bereavement
- Redundancy
- Depression
- Addiction.
- Anger
- Trauma
- OCD Obsessive Compulsive Disorder
-Divorce
-Identity crisis
-Teenage adjutments
-Adapting to a new life phase
-attachment issues
Eating disorders & suicidal thoughts..

- Personal Life Coaching- Helping people to have a clear idea of life goals and achievements that they're not quite sure how to achieve them by themselves.
And delivered a wide range of effective therapies, including;
Adjusting therapies for ethnic minorities adapting to a new culture.
Children therapy(even for youngsters who find it hard to express themselves).
Cognitive Behavioural Therapy (CBT).
Community integration workshops for young people and their parents.
Rehabilittative therapies for addicts in recovery.

Whatever the focus of the chosen therapy, I often it useful to integrate meditation and mindfulness techniques-and to draw up on my experience of adapting to a new community in a new country.

My practice is within easy reach of Lambeth, Streatham Hill ,Balham ,Clapham South and Brommely.